Type: Park/Place

Description:
Johnson T. Janes Park is a 100 acre park that lies within the northeastern portion of Parkersburg city limits. Once open to the public it will contain a 4 mile single and double track hike/bike system. Entrance is at the end of 27th street in Parkersburg after the construction of a bridge over Worthington Creek.
Location:
The park entrance is at the end of 27th Street
Contact: Rick Lemley - City of Parkersburg, Parks and Recreation
Address:
One Government Square
P.O. Box 1627 Parkersburg,WV 26101
Hours:
The park is currently closed except for hunting by permit and for scheduled trail work through the Parkersburg Bicycle Advisory Board.
Costs:
Access to the park is pending the construction of a bridge over Worthington Creek.

Other Information:
Background
On November 4, 1970, John C. Janes, Orga E. Janes, Herman Marshall and Marjorie L. Marshall donated the approximately 36 acre property now known as Johnson T. Janes Park to the City of Parkersburg for use as a park and recreational area. Since that time, another 65 acre donation was added, making the park 100 acres in size, 10 tines larger than Parkersburg's City Park.
Service-learning and volunteer opportunities
The City of Parkersburg's Johnson T. Janes Park Project is designed to involve citizens of all ages in service-learning and volunteer opportunities at the park. It has been found that for the present time, volunteer opportunities lie predominately in trail construction-related projects. The Parkersburg Bicycle board is coordinating with volunteer trail builders in the community and the River Valley Mountain Bike Association in the development of a hike/bike system in the park. Trail work is done the third Saturday of every month from 9 a.m. to noon, except during hunting season. All are welcome and encouraged to attend. Tools are provided. For more information on trail work dates, contact Kim Coram at kimberlyjo@theopam.com.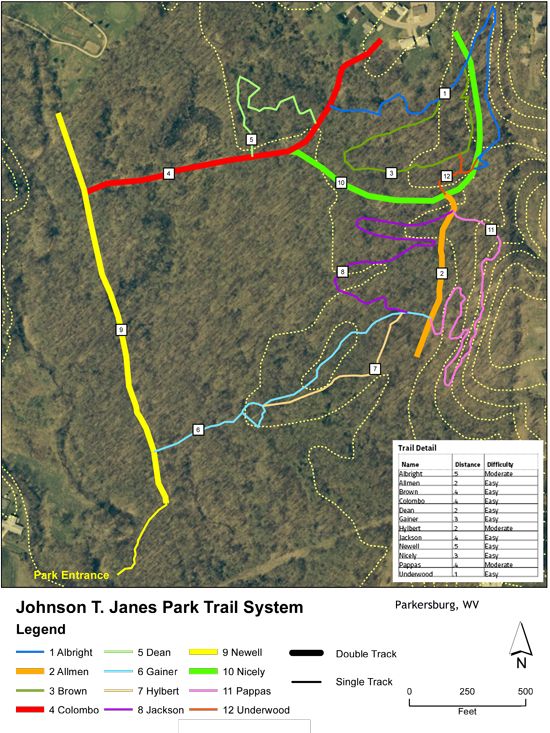 Related Activities
Bike, Run, Walk/Hike
Related Events
Related Posts