Type: Club/Organization

Description:
This organization is formed to provide education about environmentally and socially responsible mountain biking, promote responsible mountain biking throughout West Virginia and Ohio, and work for increased environmental protection of the area's trails. RVMBA builds and maintains trails in the Cities of Marietta and Parkersburg, Mountwood Park, Marietta Unit of the Wayne National Forest and North Bend State Park.
Location:
Marietta, OH/ Parkersburg, WV
Contact: Drew Smithberger
Address:
P.O. Box 701
Marietta,OH 45750
Hours:
Club meetings are held the second Monday of each month at various locations. You are welcome to stop by and join us.
Costs:
$10yr. individual
$15yr. family
$5yr. youth
Other Information:
Hosts/Promoters of the Simonton Windows Challenge at Mountwood and The Wayne Ultra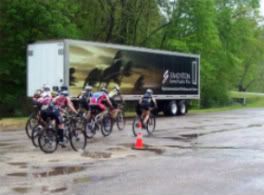 Pages
Related Activities
Bike, Mountain Bike, Trail Maintenance
Related Events
Related Posts