Enjoying a couple of hours on the Athens Bike path
I love taking folks to enjoy wonderful places they have never been before. I enjoy broadening their selection of places to go play. This past Monday I had the pleasure of spending the day with two dear friends.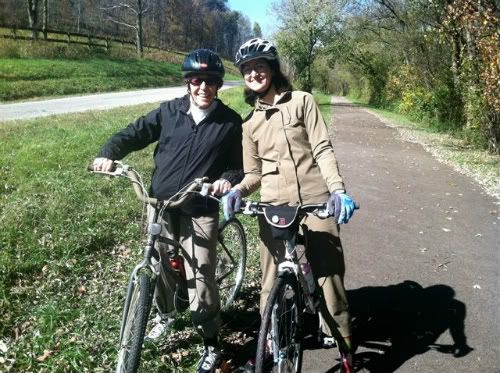 We enjoyed a two-hour bike ride and then headed to eat at Casa, one of my favorite places to eat in Athens, Ohio (one of many I should add). Ceil hadn't been on her bike for awhile and wanted to start riding again. Her daughter was in for a visit so we planned our day and off we went. I spent almost an hour at their home tuning up the bicycles and fitting them to each of them. It was great to be able to enjoy the day with good people, help improve their biking experience by sizing and tuning their bikes and being a tour guide. I look forward to our next ride together, which will be the 3rd Annual Costumed ride in Parkersburg. That is always a great time!