(Event ID: 774)
Pocket Park Contest - Design the space you would like to hang out in in downtown Parkersburg
Downtown Parkersburg Market Street, from 8th to 2nd
Have you seen those communities that introduce art into their surroundings by focusing on a theme, such as cows or pigs. or quilt squares for example? It allows citizens to participate in designing community art. That is what we are doing with the pocket park contest. Instead of cows or pigs or quilt squares, we are asking citizens to design small parks. We are PARKersburg, afterall. Park!
Hosted By
Registration
Ready to sign up!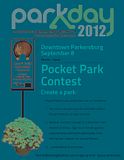 Click the picture to download the Pocket Park Registration Packet and mail/ deliver $5 fee to:
City of Parkersburg Attn: Rickie Yeager -- Park Day Planning Administrator City of Parkersburg One Government Square Parkersburg, West Virginia 26102
P: 304.424.8558 F: 304.424.8464 E: rmyeager@parkersburg-wv.com
When
Saturday, September 08, 2012 10:00 AM
Duration: 3.0 hours
Contest participants are responsible for constructing their Pocket Park on September 8, 2012 between the hours of 8:00 a.m. & 9:00 a.m. and are responsible for complete removal of their Pocket Park and the contents on September 8, 2012 between the hours of 2:00 PM and 3:00 PM. Participants who do not return their parking spot to its original condition may be charged a fee for removal and clean-up.
Voting for the best park will be open from 10 a.m until 1 p.m.
Where
On Market Street from 8th to 2nd
Cost
$5 to reserve a parking spot for a park
Course Description
Park Day 2012 organizers are holding a pocket park contest which invites individuals and groups to occupy parking spaces on Market Street and literally set up mini-parks in them.
PARK DAY 2012 POCKET PARK DISPLAY CONTEST RULES ELIGIBILITY:
Contest participants will be required to construct their Pocket Park within the dimensions of their assigned 8' width x 20' length parking spot.
Pocket Parks must contain (but are not limited to):
secure bicycle parking (with a lockable surface for each bike) for at least one bike,
weather resistant signage to a downtown destination of choice. Sign must include approximate distance and time to destination from the Farmer's Market on 3rd and Market.
landscaping of some type.
Awards
Cash prize for park voted best by the public.