(Event ID: 689)
Park Day 2012 - a car free Saturday in downtown Parkersburg
Held on Market Street
Picture an area in downtown Parkersburg that is temporarily closed to motorized vehicles and designated so community members can safely bike, walk, run, and play.
Hosted By
When
Saturday, September 08, 2012 10:00 AM
Duration: 4.0 hours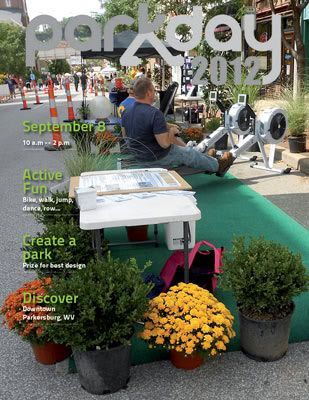 Where
The event will be held on Market Street
Course Description
Goal: To encourage residents to use active transportation such as walking and biking and to encourage downtown businesses to support these modes of transportation.

How will this event encourage businesses and residents?


We will close off the streets and invite people to walk, bike and recreate in the streets. This is done worldwide as an encouragement tool and is commonly referred to as a cyclovia.
We will invite activity clubs in the community to attend and share their information and activities with attendees.
We will provide information and guided tours on Parkersburg's new cross-town bikeway.
We will host a swap meet for recreational gear.
We will host a contest focused on providing support for walkers and bikers. We will invite businesses, schools, clubs and residents to physically design and create a park.

Optional items may include, but are not limited to: a hydration station, seating or bike parking for more than one person or bike and decorative items.
Awards
Prizes will be given for the best mini park design